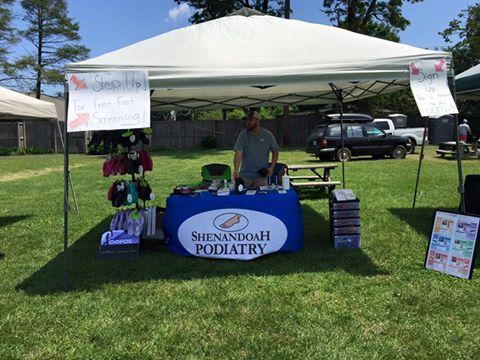 Last weekend Shenandoah Podiatry had a tent setup at Troutville Trail Days.  This was an activity geared for the through hikers of the Appalachian Trail, but a lot of locals attend as well.  There was plenty of food and music to enjoy.  We were there to help anybody with foot pain.  Brittney and I met a lot of fun people.  We had one through hiker that had been hiking for the past 200 miles with severe foot pain.  She had tried treating the pain with over-the-counter orthotics without success.  We decided to try the Quadrasteps semi-custom orthotics on her. 
Quadrasteps are orthotics that are made for six different foot types.  It takes only a short biomechanical exam on a person's foot to determine which foot type they have.  The benefit of the Quadrasteps system is that all the sizes are kept in stock allowing patients to try them out prior to purchasing them.  They are made from durable plastic material that is washable.  Life span of the orthotics is typically between 2-3 years. 
It was an immediate and dramatic difference after the patient noted above tried on a pair of the Quadrasteps.  She had been hiking for 200 miles with pain, and for the first time didn't have any pain!  It's amazing how properly supporting the foot will help it function so much better.